Free way to the top of Google's search results?
A free Google My Business listing should be a key part of your marketing effort if you are targeting a specific location with your business.  Google is working hard to answer searchers' queries in its search results without asking users to make another click through to your website. So, ask for restaurants in Stevenage for example and look at what you see: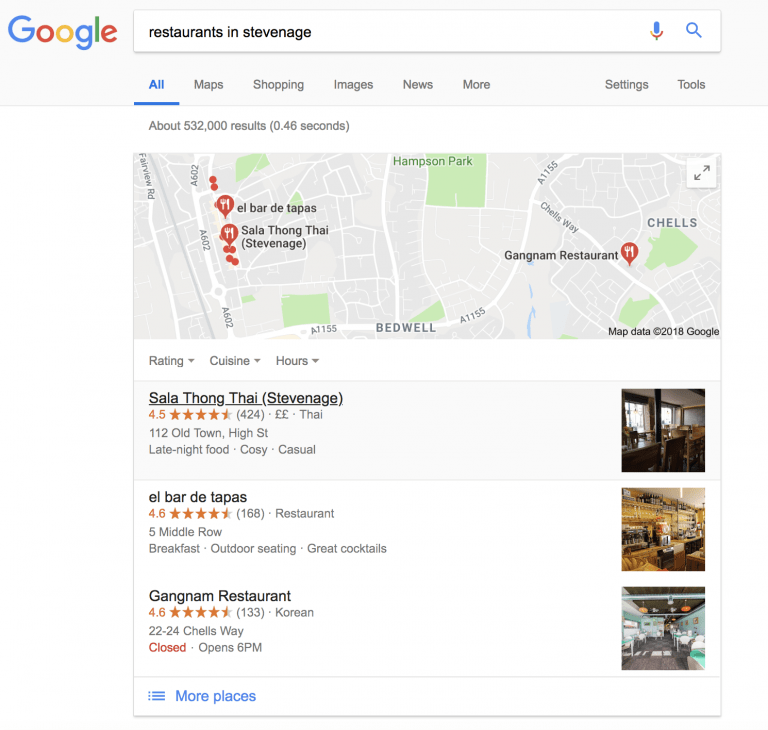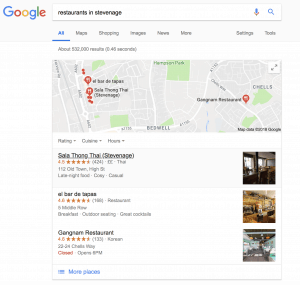 You can't even see the search results at first, the only content visible is the restaurants listed in the Google 'Local Pack'.  So if you're a plumber in Potton, a welder in Welwyn or a stylist in Stevenage, you better get yourself set up on Google My Business.  What's more, it's free and helps you get found in Google's Local Pack, Local Finder, Google Maps, and organic rankings in general.
You can add basic information like address, phone number, business hours, and types of payments accepted.  All helpful for when customers land on your listing, but there are also lots more features to help you stand out against your competitors too.
How do I get started?
Head over to Google My Business for your free account sign up.  Make sure you fill out all the information Google asks for by working through the tabs so you have the most helpful resources for your potential customers.  When completed, your listing will have valuable basic data that will make it easier for potential customers to find more information about your company.  You can add a business description, add services and even take appointments directly from the listing if that helps your business.
And if you don't fill out that information, someone else could. Many business owners don't realise that anyone can suggest a change (or "edit") to your business listing — and that includes your competitors.
What else can I do?
You can add posts to appear in search results too to enrich your listing and invite customers in.  You can add an image, a call-to-action, and even including a link to another page or website.
Not sure what type of Post you should make? Here are just a few ideas:
Set up an event Post with a date and time, then add a link to the registration page.
Do you have a sale going on during a specific time? Create a "sale" event Post.
Does your latest blog post rock? Add a short description and link to the post on your blog.
New product you want to feature? Show a picture of this cool gadget and link to where people can make the purchase.
The possibilities with Posts are endless! Posts show up prominently in your business' Knowledge Panel, so don't miss this opportunity to stand out.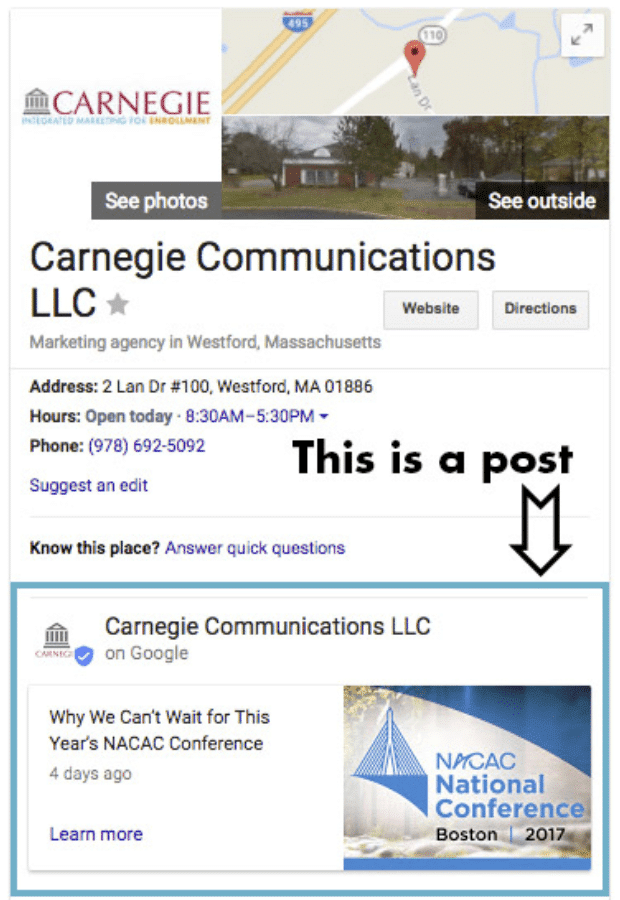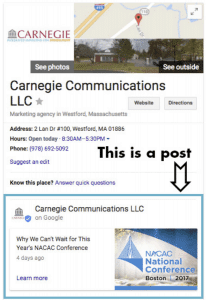 Is it all worth the effort?
So a great Google My Business listing will take a bit of effort for sure, but could take you to the top of Google's search results and not cost you a penny in marketing spend.  And that's wise work in our books.  If you still have some doubts why not Google your own business type in your location and see what turns up?  If a bunch of your competitors are at the top of the page, then it's likely time to get going!
If you want to ask any more questions, feel free to give a shout by hitting the button below: