Want to reach more people with your website?
Of course, you do, and that's why you should read on if you're using WordPress. The latest release of this hugely popular content management system helps make websites load more quickly, stay more secure and become more discoverable. In turn, these all help you to get more customers and to keep them on your site for longer.
WordPress' latest version is now out, WordPress 5.5. This new release, called "Eckstine", after Billy Eckstine the American jazz and pop singer, brings improvements to your WordPress website in three key areas:
Speed – helps make your site run more quickly so more visitors stay on your page
Search – shares your site information with Google and other search engines
Security – makes keeping your site patched more simple
We'll dive into these in a little more detail here.
Speed improvements
Just a reminder as to why speed is so important. According to a StrangeLoop case study that involved Amazon, Google, and other larger sites, a 1 second delay in page load time can lead to 7% loss in conversions, 11% fewer page views, and 16% decrease in customer satisfaction.
Just think for a moment how much time and cost it would take to add 7% more business to your website working on new traffic from SEO or Google Ads. Yet, speed up by 1 second and you've had the same impact – mind blowing.  This is one of the most under-rated, under-considered areas in websites in our opinion.
"Website page load speed is one of the most under-rated, under-considered areas in websites in our opinion."
WordPress is helping sites built on their platform by using lazy loading for posts and pages. This makes pages look like they are loading faster to users.  Images won't load until they're about to scroll into view, which should give image-heavy sites like architects and photographers a significant lift in performance.
We would recommend taking advantage of this feature by updating as soon as you are comfortable to do so.
Search improvements
By default, WordPress 5.5 will include an XML sitemap from the moment you go live. This helps Google and other search engines discover your content and bring it to your users more quickly.
You can achieve the same relatively simply by setting up SEO plugins such as Yoast or All in One SEO, however it's a great feature for anyone not comfortable with this.
"We'd recommend anyone who doesn't have these plugins or an SEO expert to try and take advantage of this feature by updating to this latest WordPress version."
Security improvements
Outdated themes and plugins are one of the most common reasons sites get hacked and it's also easy to miss an update. WordPress 5.5 gives you the new option to set themes and plugins to automatically update when a new version releases, so you can automate the process on a per plugin or per theme basis.
This "set and forget" approach can be an amazing time-saver for any non-business-critical sites. Just update to the latest version of WordPress and then visit the Plugin page and set any plugins to auto update per the below screenshot:

For the themes, you can do it here: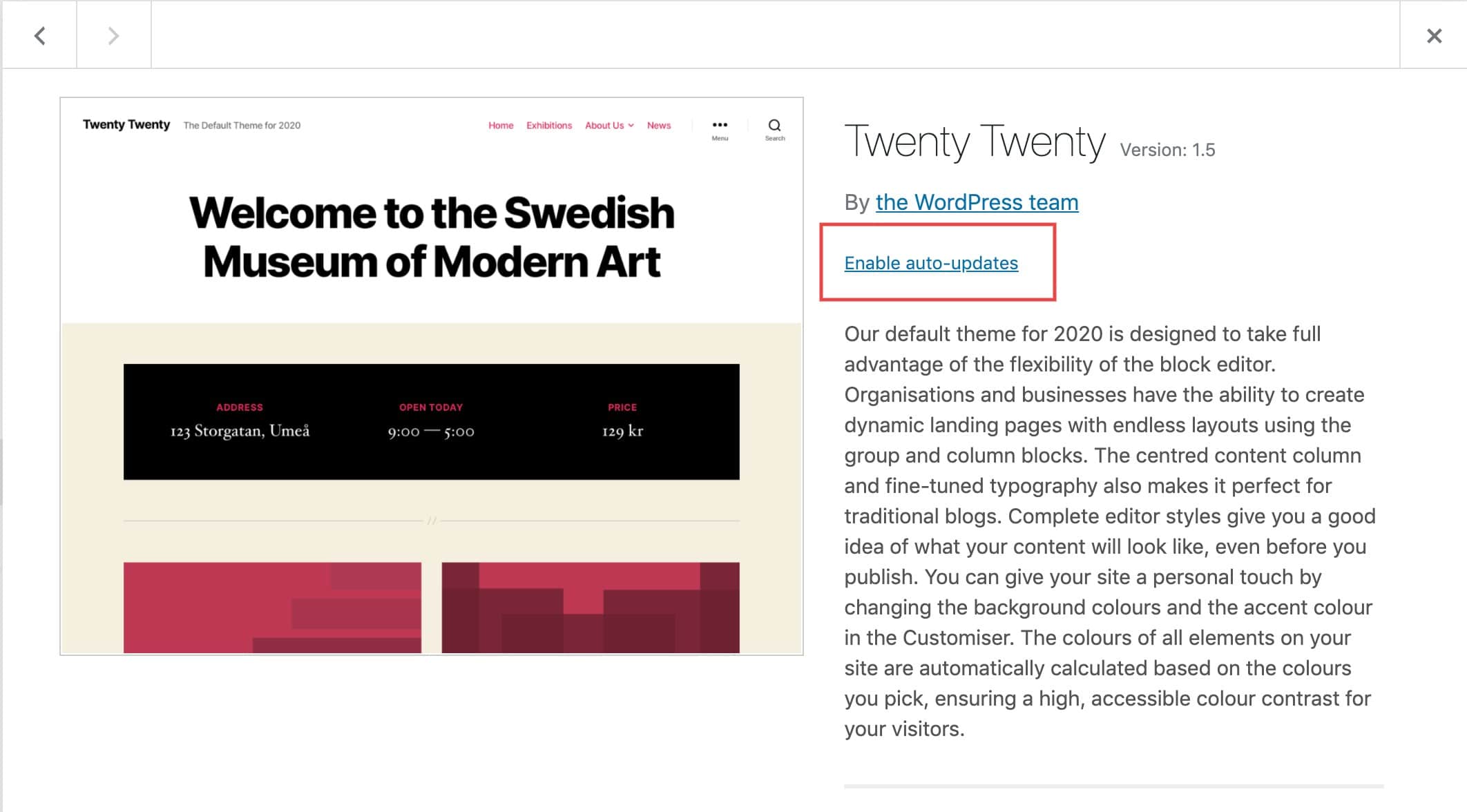 We would not recommend this for business-critical sites as updates can cause things to break. Instead we would suggest making updates on a staging site first or using a WordPress professional to take care of this for you.
Summary
In summary, we are very impressed with these new features and recommend you update so you can take advantage of them as soon as you're comfortable.
If you'd like to talk to an agency who has been selected among the Top WordPress Development Companies by Designrush, then just drop us a line with any questions.