Grow Your Business Quickly with Google Ads Managed Campaigns
You might have heard of Google AdWords, Google Ads or Pay-Per-Click (PPC) advertising.  They all mean the same thing: investing in buying advertisement from Google so your customers can find you in the search results.  Typically you only pay when you get clicked.
In terms of results: it can be an amazing source of new leads into your business, and if managed correctly, gives a highly targeted and measurable return on your investment.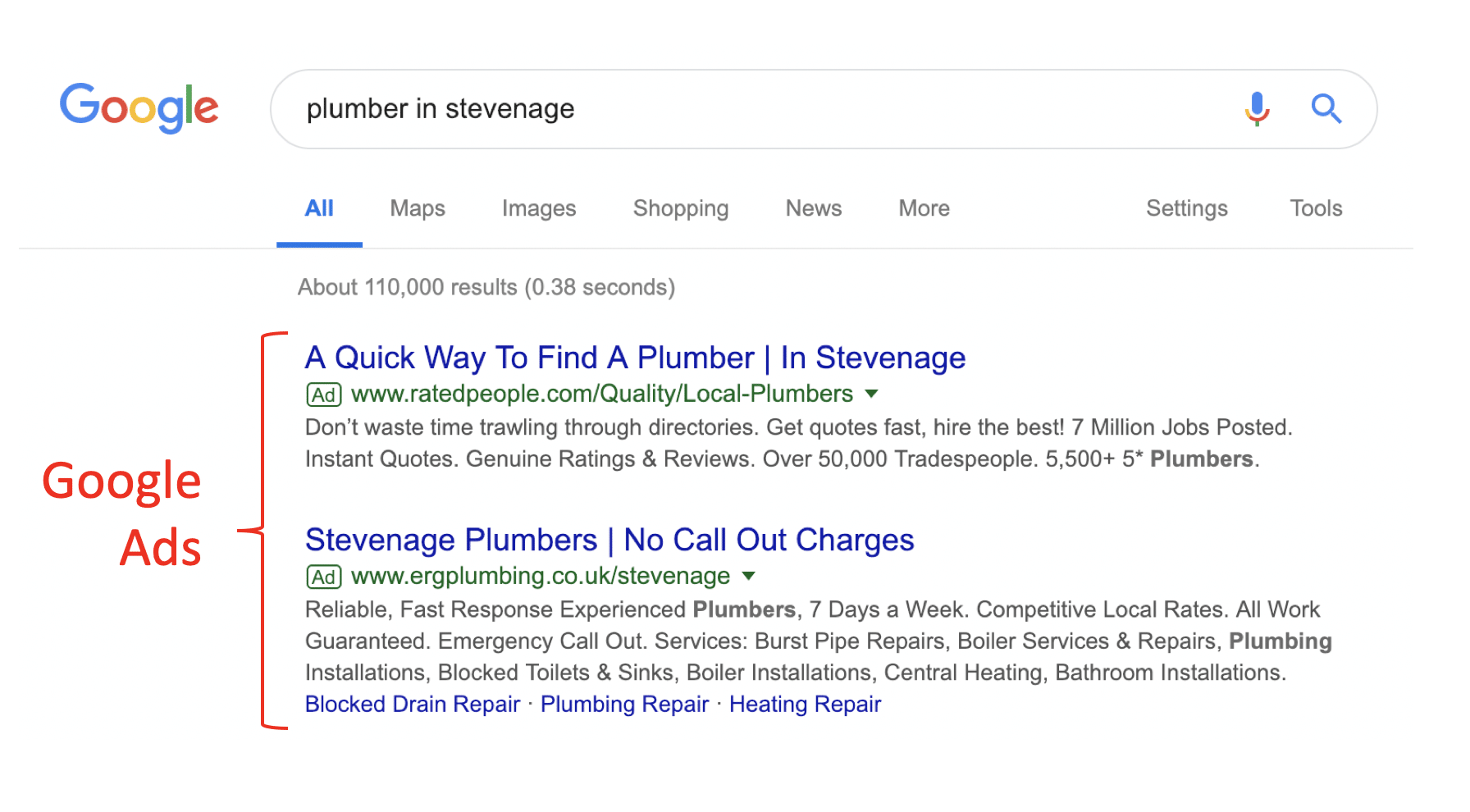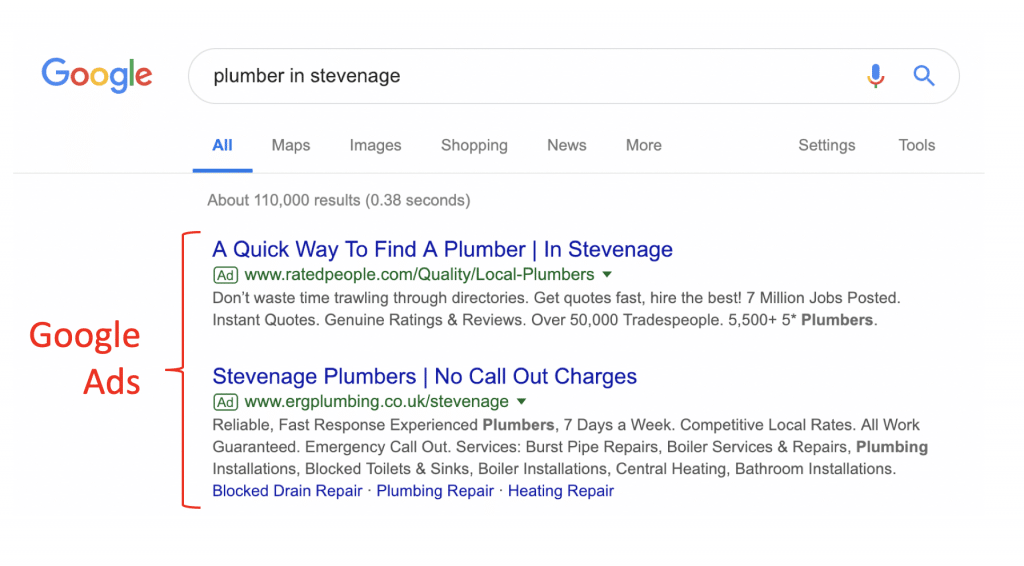 Why Tim's Digital Google Ads in Stevenage?
To get the best results and return on your investment, it is worth considering a partner to help manage your account for you.  Tim's Digital is based in Stevenage, Hertfordshire and has qualified experts so you can trust us to manage your Google Ads professionally.
We work on delivering a strategy for you, to help segment the billions of internet users more effectively.  We also make sure you are helping them get the information they need to buy from you.  If you're frustrated with poor results from you current campaign, then please get in touch so we can help.
How much does Google Advertising in Stevenage cost?
Great question: for those of you who are thinking about PPC as a new way of advertising, you are likely thinking about how much you'll be expected to shell out to advertise on Google, and whether you can afford it!  Unfortunately, the honest answer is that "it depends"…
The cost of Google Ads (formerly known as Google AdWords) depends on several points as below:
Google Ads is based on an auction system that rewards businesses who have high-quality ad campaigns with lower costs and better ad placement.
You can exercise tight control over how your Google Ads budget is spent using tactics like ad scheduling, geotargeting, and device targeting.
The average cost per click in Google Ads is between £1 and £2 on the search network. The average CPC on the Display Network is under £1, so there are options for different budgets.
The most expensive keywords in Google Ads £50 or more per click. These are generally highly competitive keywords in industries that have high customer lifetime values, like law and insurance.
The answer does depend to a large degree on what market you are in, the strength of your competitors and how much traffic you want to see.  However, as a rough guide, a budget of £350 per month should allow a large enough investment to get some traffic to your site.  This is the money you would invest directly with Google on its advertising platform.  Once this starts, you immediately get data about performance too, which means you can refine – improve what's not working, spend more backing the winners, etc.
Our managed Google Advertising PPC campaigns all offer professional management and performance reporting.  The investment costs below are agreed between us and you and are kept separate from your Google spend – this way you know exactly how much you are paying on advertising versus on management fees.
We don't tie you into long contracts, we just ask for a fair 30 days notice period.
We provide a free, bespoke quote and assessment of the results you could get from a new campaign.  It will give you amazing advice on how to maximise the benefits of Google Advertising.
Just hit the button below for your free report.
Google Advertising Investment in Stevenage
Essentials
Management of a Small Account
Up to £1,000 monthly PPC spend

Single Campaign with 6 Ad Groups

Monthly Performance Reporting
Essentials Plus
Management of a Growing Account
Up to £2,500 monthly PPC spend

Two Campaigns and 6 Ad Groups per campaign

Monthly Performance Reporting
Growth
Management for Aggressive Growth
£2,500 to £15,000 monthly PPC spend

Up to 2000 keywords in a campaign

Monthly Performance Reporting

*Investment costs 12-14% of spend, from £399 per month
What is the Process for Google Advertising in Stevenage?